Summer is not full without trips to the countryside, lazy days off at the cottage, and barbecue! Ribs, juicy sausages, light vegetables, traditional American hamburgers, or fish with a golden-brown crust – everyone has their preferences. But the main thing in a barbecue is not the food, nor marinades and sauces, but a grill itself. 
The traditional device works on coal, but in recent times, gas models became hugely popular and became a better alternative to usual charcoal grills. According to the Hearth, Patio & Barbecue Association's (HPBA) study, two-thirds (64%) of U.S. adults own a grill or smoker with gas remaining the most popular fuel (61% of users prefer gas grills). 
And considering that the market is full of different brands and models, knowing the grill's must-have features and what are some of the top manufacturers is critical to pick the best propane grill that will suit your needs. And we would be happy to help you find the perfect one!
Propane Grill Benefits
Apart from being the best gas grill, propane (gas) grills have many advantages over any other model. 
Here are some of the benefits you'll get when using propane gas grills:
Affordable source of fuel: Propane gas is very cheap so most people can afford it.
Easy to use: The gas grill won't give you a hard time while using it. No charcoal or fire is needed.
Easy to clean: Gas grills are easy to clean. Unlike most grills, they don't create a lot of mess. Additionally, they have a built-inside pan, which helps accumulate produced grease
Top Rated Propane Grills Reviews & Comparison
The chart below depicts all the important features your future propane grill should have: enough cooking space, durable material, high BTU, number of burners for each model, propane grill dimensions, as well as our rating, of course. If you take into account all this info, you'll easily choose the best propane gas grill model for your needs.
|   | Main Cooking Space | Burners (Main) | BTU | Dimensions | Warranty |
| --- | --- | --- | --- | --- | --- |
| Napoleon | 500 sq. in. | 4 | 48000 | 26.5 x 66.25 x 50.25 inches | Limited lifetime warranty |
| Cuisinart CGG-180 | 160 sq. in. | 1 | 5500 | 31.5 x 16.5 x 16 inches | 3 years |
| Weber | 580 sq. in. | 4 | 48000 | 57.1 x 66 x 30 inches | 5 years |
| Camp Chef | 501 sq. in. | 4 | 48000 | 62.5 x 37 x 22 inches | 1 year |
| Cuisinart CGG-240 | 240 sq. in. | 1 | 15000 | 27.3 x 38 x 23.5 inches | 3 years |
| Char-Broil Grill2Go | 200 sq. in. | 1 | 9500 | 23.7 x 15 x 13.6 inches | 1 year |
| Char-Broil Classic | 360 sq. in. | 3 | 30000 | 24.1 x 51.2 x 43.5 inches | 1 year |
| Masterbuilt | 205 sq. in. | 1 | 10000 | 32 x 19 x 33.5 inches | 1 year |
| Broil King | 444 sq. in. | 4 | 40000 | 57 x 24 x 45.5 inches | n/a |
Best Overall: Napoleon Prestige 500 Propane Grill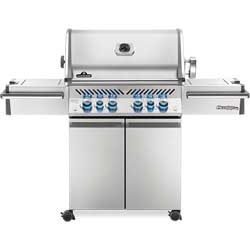 Prestige 500 is a legendary propane grill by Napoleon. Due to a high quality and functionality, it has everything you need to cook really delightful culinary masterpieces! Advanced technology, reliable performance, and modern design have become Napoleon's hallmark. Prestige 500 is one of the best-rated models, designed to make you enjoy both the deliciously prepared dishes and the cooking process itself. Thanks to this fantastic professional device, you can smoke, grill, bake, prepare sushi and even grill meat on the spit.
Pros
6 burners
Large cooking area
High BTU
Portable
Contains all-weather wheels with reliable stops
Lifetime warranty
Cons
High, but reasonable price
Compact Design: Cuisinart CGG-180 Petit Gourmet Gas Grill
Cuisinart Petit Gourmet is a nice portable mini device for a family. You can take it with you anywhere. The design resembles a red suitcase with a handle and built-in wheels. You will have no problems with setting it up and you can do this in a few seconds. It contains griddle and grill cooking surfaces within only 1 burner. So, in case you enjoy spending time with your family somewhere outdoors, this model is for you. The food's taste is more than delicious.
Pros
Easy set-up
Great price
Ultra-portable
Easy to clean
Pretty Small
Cons
Top Assembly Instructions: Weber Summit 7170001 S-470 Propane Grill
With Weber Summit 7170001 S-470, you will enjoy the outdoor cooking. It has a lot of benefits among other options like a perfect total cooking area, and high BTU. It was specifically designed by famous Weber as an outdoor option for cooking in the open air. Thanks to gas Weber® barbecue, you can grill, fry and bake. Such a result is difficult to obtain at home. Closed lid and Flavorizer® plates give the food a taste that is typical for cooking in the open air. Weber Summit S-470 is a portable device, so you can easily change its location putting it in the garden or in the courtyard.
Pros
Large cooking area
Uses liquid propane
Portable
Equipped with 4 cool burners
High BTU
Cons
Very expensive compared to other grills on this list
Convenient Side Shelves: Camp Chef FT600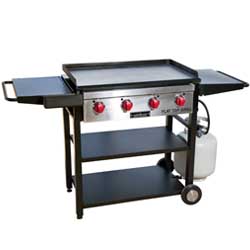 Camp Chef FT600 Flat Tog Grill is also one of the best among large devices to consider. It is an inexpensive model, with an excellent cooking area of 501 square inches. Moreover, it is able to feed all your guests pretty fast. The cooking area may serve 50-100 people per hour, so it may be too large for a family, but it will be perfect for a birthday party or wedding outside with lots of people invited. This unit comes as 3-in-1: a grill, a griddle, and a water heater. Thanks to the roller wheels included, it is easy to move.
Pros
Perfect cooking area
Adjustable leg levelers
Two side shelves
Easy to clean with a grease management system
Affordable
Cons
Food may stick to the griddle
Top Functionality: Cuisinart CGG-240
Cuisinart CGG-240 is the best option thanks to its functionality and portability. Electrical ignition operates really quickly, the temperature is instantaneously pumped up to 500 degrees. The built-in thermometer shows the temperature and the cast-iron grid covered with enamel helps to cook meat instantly. Thanks to the manual temperature adjustment and the lid, it's a pleasure to cook on this best gas device. The side shelves may be easily added if you need them. This variant is the best portable device and can be easily transported through sand, grass, and even dirt.
Pros
Lightweight
Easily portable
Nice design
Easy-to-use
TwistStart electric ignition
Large wheel
Cons
Budget-friendly: Char-Broil Grill2Go X200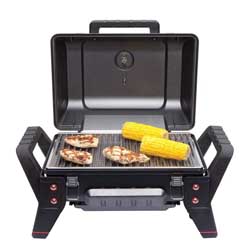 Char-Broil Grill2Go X200 is an infrared best budget propane grill option with a compact, sheltered design. If you have ever tried juicy steaks that you can cook only with this device and picnics, traveling, fishing or hunting is your hobby, you won't do without the Grill2Go X200. It is compact and is developed of die-cast aluminum. This powerful grill withstands serious loads. You can enjoy dishes with an unrivaled taste thanks to the full TRU-Infrared system wherever you are! As a bonus, this one is also quite cheap.
Pros
Low price
Fully portable
TRU-Infrared cooking system
Cast aluminum firebox
Compact design
Cons
Gas regulation system is inconvenient
Best Ignition System: Char-Broil Classic 360
Char-Broil Classic 360 is another best device. It is equipped with 2 burners and delivers 30,000 BTU of heat across the 360 sq. in. cooking area. These top rated models allow to feed the whole family with delicious meals outdoors. It wins in the category of the best small units in 2023. Also, it features porcelain-coated grates to prevent the food from sticking and it makes it easy to clean. 3 stainless steel burners are absolutely durable and deliver perfect cooking results. Moreover, Char-Broil Classic 360 features a fantastic piezo ignition system for fast and reliable startups with only one button and two metal side shelves for increased storage of ready food. Despite these features, it is among the best affordable options.
Pros
Affordable price
Nice design
Piezo ignition system
Side shelves
3 burners
Cons
Could be small for a big party
Best Tabletop: Masterbuilt SH19030819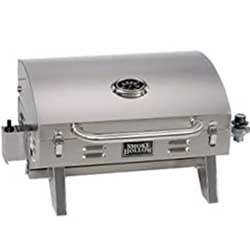 Smoke Hollow grill by Materbuilt is the best tabletop model. It has an excellent cooking area for the size, 1 burner, and small dimensions. This modes operates on disposable one-pound propane cylinders. It will be a perfect solution for a family to spend an excellent time with tasty food outside. Also, this stainless steel device has a nice design and resembles a suitcase that can be easily taken with you even to camping. The price is also very tasty the same as dishes cooked with the help of this best small device.
Pros
Portable
Small propane BBQ
Perfect cooking area for a family
Easy to clean
Great price
Cons
You'll need to buy propane cylinders separately
Best Cooking Area: Broil King Baron 420
The Broil King Baron 420 has very powerful double tube burners made of stainless steel and is also the best propane BBQ grill. The grill's body is developed of cast aluminum, which excludes corrosion. The Sure-Lite Ignition technology will light your burner in all possible weather conditions. Fry grid is made of cast iron and the chamber has a large size and great depth with thick walls. This allows you to get even more control over the cooking process. The model has an additional burner, a grill, and a spit with a motor to give an appetizing crust to your tasty masterpieces. So, it appears to be the best value option.
Pros
Perfect Sure-Lite ignition
The largest total cooking area of 644 sq. in.
Has a spit
Powerful double tube 4 burners
Cast aluminum body
Cons
Types of Gas Grills: A Brief Overview
There are a lot of propane grill types, but all of them can be divided into four main categories: built-in, portable (touristic), freestanding and infrared. 
And when you want to find only the best propane grill, the first thing you need to do is to determine what type would be the best for you:
Built-in Gas Grills
Built-in propane grills are often used in restaurants, but they can also be a great choice for personal use. These grills are connected to the main gas supply and offer great and high efficiency.
Portable/Touristic Gas Grills
Portable gas grills are much more common and their main distinction is that they are mounted on a cart with the wheels. This cart provides space for a gas cylinder. Plus, they are often equipped with side shelves and boxes for the blades' storage.
Touristic grills are compact models that you can take with you on a picnic or a trip. While their performance is weaker than alternatives, they are lightweight and perfect for camping. Plus, with this type, it may even be possible to find some propane grills for sale that come with additional accessories.
Freestanding Gas Grills
Just like the name suggests, it stands on its own without support. It comes with legs, cabinets, wheels, and shelves. While these propane grills are quite affordable, they are not suitable for indoor use.
Infrared Gas Grills
These are grills that use light as a source of heat to cook food. Although they use sunlight for cooking, gas is still their main fuel. This type's grill has a heating element that's made of ceramic and they provide fast and even cooking. The notable downside of these grills, however, is the price.
Propane Gas Grill Buying Guide – What to Look at?
Now let's take a look at a few things you need to consider to choose only the best gas grill:
Cooking Surface Size
Propane gas grills rely on size to produce flame, so that is one of the main criteria you have to pay attention to.
LP gas grills are classified into 3 sizes:
Small grills: Can hold 18 or fewer burger patties
Midsized grills: From 18 to 28
Large size grills: 28 or more
Burners
Burners in the propane BBQ grill should be made of stainless steel, cast iron, or brass. Meanwhile, the covers should be made from thick steel and covered with porcelain enamel or stainless steel, since they are a lot more durable and easy to clean, according to a lot of propane grill reviews from users.And while It's not necessary to buy a device with step-by-step temperature control, it's still better to choose the one that allows you to adjust the temperature. After all, it's always important to keep track of the optimal temperature.
Body Material
If you are worried about the grill's look, when buying a stainless steel appliance –  make sure that the lid has double walls. In this case, the outer layer won't change its color. Thus, a stainless propane grill will be the best choice.
Stability
It is very easy to check the propane grill construction for sustainability – just try to push the grill slightly. A good grill shouldn't wobble, sway or rattle. Also, make sure that the grill cover opens smoothly and without effort, but at the same time, it shouldn't fall off from the slightest push.
Grilling Grids
Grids should be made of steel or cast iron with porcelain or stainless steel, but the most popular are cast iron grids. The wheels on which the grill frame is mounted must have a smooth stroke and the possibility of fixation.
Propane Grill Vs Natural Gas Grill: Is There a Difference?
Gas grills are designed for two fuel types: natural gas and propane. And there are a couple of major benefits between the two: mainly the cost, convenience, and environmental impact.
While creating our propane gas grill reviews, we've discovered that like propane, natural gas releases a lot more emissions and damages our environment. Some grills powered by natural gas can be connected to the gas pipeline system inside the house (such models are cheaper) or they can operate using the cylinders in the patio. There are also models of gas grills that support both types. 
As for the cost – since propane has a higher BTU it tends to heat up faster than natural gas. Thus, it uses less fuel and saves you more money in the long run. That is what makes propane a better choice, and why more people opt for it.
Final Word
After analyzing all the top 9 highest rated propane we could say that all of them deserve credit and attention. Nevertheless, if we had to pick one that is the best propane grill, we would say – Napoleon Grills Prestige 500. All thanks to its amazing specs; It has a large cooking area, 4 burners, 48,000 BTU, infrared side burner Sizzle Zone, space-saving flip-top, Accu-Probe temperature sensor, and back burner for a spit. Besides, this model has an all-weather wheels Easy Roll, which grants it great portability. 
All and all, whether you decide to choose this model, or decide to find something else that works for you, we sincerely hope that our little article has helped you learn all there is about the best propane grills 2023 and how to choose them!
So best of luck, and feel free to share with us which model you think is the best and why!