Barbecues always set the mood for a perfect hang out with friends and family. But, there is much that goes into delivering an ideal cut of meat other than sticking it into a smoke oven. Master Forge, an impeccable smoke oven, is hands down the guru of smoke cooking. However, to fully enjoy some juicy BBQ, as if you were in a restaurant, you need to find only the best Master Forge smoker. 
And that is what we decided to investigate.
In this article, we'll discuss only the best Master Forge smoker 2023, how to use one, and the models you should consider. Moreover, we will teach you what you need to pay attention to, to find a model that's perfect for you.
What is the Master Forge Brand?
Master Forge is a company that prides itself on producing quality smokers. While the Master Forge Company is not as widely known as some other brands, it has begun to get more attention and become more popular thanks to the high quality and affordable prices of their smokers.
Master Forge Smokers: All the Models Available on the Market 
If you are looking for the best Master Forge, then first you need to determine the type you want. There are three major categories: charcoal, electric, and propane. 
The Master Forge charcoal smoker is the most common and popular type.
The Master Forge electric smoker works just like an electric heater or oven, and the Master Forge propane smoker uses gas as the heat source. It's important to note that the latter is especially great for beginners since it's very easy to set up and use.
Master Forge Vertical Charcoal Smoker: Overview and Main Features
The Master Forge vertical charcoal smoker comes at a relatively low price. It is small and compact therefore suitable for people looking to save space but still enjoys a charcoal smoker. The best thing about this is that it's very portable so you can move in around.
Main Features
Lightweight body
Easily-accessible thermostat
Convertible design: grill, smoke, and steam
Adequate cooking surface
Master Forge Gas/Propane Smoker: Overview and Main Features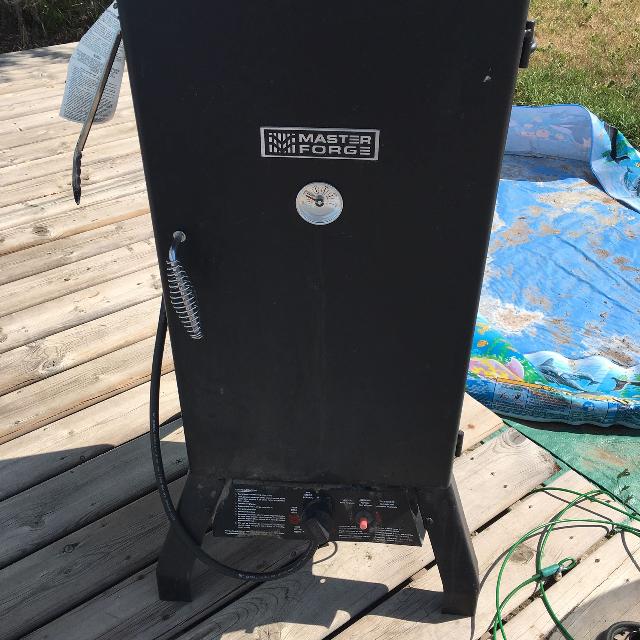 The Master Forge gas smoker provides the best of both worlds. It is not only great for smoking but grilling as well. The dual functionality feature offers excellent value for money, not forgetting you can steam and roast in it. Another great thing about the Master Forge 2 door gas smoker is that it prevents heat loss.
Main Features
Convertible design: smoke, grill, steam, roast
Lightweight and portable 
In-built thermostat
Double-door design 
Useful bottom tray
Master Forge Electric Smoker
While creating our Master Forge electric smoker review, we've learned that this is the easiest type to use. The only thing you need to do is to start it and leave the machine to do the job. It has a relatively large cooking surface, and a big size overall, so it's ideal for families and large companies. Furthermore, the Master Forge digital electric smoker is perfect for beginners and those that prefer slow smoking.
Main Features
800 watts
Double-wall firebox
In-built thermometer
LED light 
Space-saving design
Choosing the Master Forge Smoker: General Considerations 
You want to find one that works well and caters to the needs at hand. An excellent place to start is reading Master Forge reviews from other users. That way, you can determine which of the three types suits you best.  
Another way to find only the best Master Forge smoker is to keep in mind several important aspects:
Size and Cooking Surface
The size of the smoker you choose depends on how much food you want to smoke at a time, as well as how much space you have. Luckily smokers are available in small and compact sizes that can work well for limited spaces. 
Additionally, the cooking surfaces are relatively large to smoke a considerable amount of food at once. For example, the Master Forge vertical smoker has several compartments providing a large cooking capacity for different foods. The gas smoker, on the other hand, has a smaller cooking surface but enough for a family or a small group of friends.
Power and BTU
The power the smoker provides depends on the specific type and model. Master Forge smokers are pretty efficient and provide adequate power for quality smoking. When it comes to BTU, this differs from one type to another. 
BTU means the British Thermal Unit, a term used to refer to how much fuel a smoker will use in a given time. Therefore, a smoker with a higher BTU rating will consume more fuel than one with a lower rating.
Portability
Master Forge smokers are considerably lightweight and small. They are, therefore, easy to carry around without worrying about the weight. Portability is particularly crucial if you intend to store your smoker and use it only when needed. And if you need to move the device often, you can choose an electric smoker that comes with wheels.
Accessories and Modifications
Some of the accessories for Master Forge smokers are a built-in thermostat, automatic starter, handles, light, etc. However, these vary from one type to another. Smokers are highly adaptable to cooking different foods: they can smoke, grill, steam, and even roast.
Notable Alternatives
Some good alternatives to Master Forge products are:
Conclusion and Final Thoughts
Master Forge has created a reputation of being a rather cheap and affordable brand of grills. Whether you choose a gas one or opt for the seamless electric one, you will love the results and the overall experience. The best thing is that there are limitless ways to use them; therefore, versatile for a variety of needs.
All and all, the best Master Forge smoker 2023 provides value for money with the quality of materials, efficiency, and functionality. We love that the brand has something for everyone catering to the needs of most people. So keep in mind this information, check some user feedback, and decide which smoker you think is the best for you!